IDAD provides on-site and remote IT managed services for small businesses with 1 to 50 employees.

We are a complete IT service provider offering expertise in the following services:. IT Management, On-site Support, Remote Management and Web Development.

IDAD Partners with some of the big players in the tech industry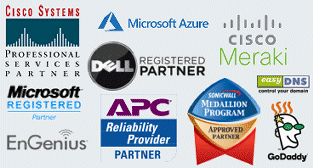 What sets IDAD Consulting apart from the rest is our willingness to invest in technology solutions.

We achieve this today by being partnered with leading software and hardware businesses such as: Dell, Microsoft, Cisco and Microsoft Azure to name a few. These unique partners allow us to pass along cutting edge solutions, to you, our clients.

Why choose IDAD for your IT needs?
We are a local company that can offer quick response to your network or PC issues in midst of a crisis or you just need your technology to work to make your deadline successful.

We strive to become part of your team as if we worked on-site with you full time.
With IDAD, your network and "IT uptime" is our top priority.

We want you to stay focused on building your business and let us take care of your IT needs.



Consider doing business with a company that puts you, the client, first!
IT Services

We can fully manage your IT services from the ground up. From a detailed

network assessment

to maintaining your systems 24/7/365.

Web Hosting

We will minimize your costs associated with your connection speed, specifically configured computers and the resulting maintenance required.

The virtual hosting service that we offer will relieve your organization of the burden of having dedicated hardware/software and the high cost of human resources devoted to a full-time Internet presence.

Visit our Web hosting site

Web Development




A customized site for your personal or corporate business...

Professional graphics are used to present your messages to the public in a neat and organized format ensuring greater respect by those who view them. With IDAD, our state-of-the-art techniques and close client contact, you are assured of a creatively designed, unique website. Check it out.
Contact Us

PO Box 3205. Woburn, MA 01888
888-312-4323
INTERNET-20 Relief
During these unprecedented times and the possible challenges of working and schooling from home with accessing the Internet (spotty Wi-Fi, slowness) or not having enough computing power (laptops and workstations), IDAD Consulting is providing in-home services and recommendations to alleviate your troubles.
We will visit you, following all safety guidelines and protocols to keep all safe, and will assess your situation and provide solutions to address your needs.
Whether it be running network cabling to far reaches of your home, adding wireless access points to cover the "dead-spots" or providing computing devices to increase your online usability, etc., IDAD will be there to assist.
---
COVID-19 Relief
Now until the end of the November 2020, we are offering a 19% discount on our hourly consulting rate.
Typical service estimates:
Assessment / Consulting - 1 hr.
Wi-Fi Access Point (booster) setup – 1 hr. (per device)
Wi-Fi Access Point (wired cabling) – typically 2 hrs. based on accessibility (per device)
Please drop us an email at support@idad.net or call 888-312-4323