IT Management
Network Assessment - Several goals are accomplished with a network assessment:
It is an objective review of your business' data or voice environment in terms of current functionality.

It is a review of network design based upon standards, its current performance and ability to meet your business' requirements

It provides a baseline for future implementations.
The first two tasks are achieved through comprehensive surveys of y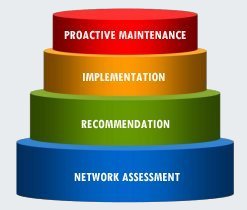 our business goals and network environment, as well as through specific documentation of your network infrastructure and links. Network testing and analysis of your business' current network performance establishes a baseline that may then be measured against future expectations of performance. Identifying a baseline enables your company to adjust and set a more appropriate level of expectation for planned technology implementation. Get started by submitting our Network Assessment form online.

Recommendation - Once we establish your baseline and inquire about your current and future IT needs, we will make our recommendations

Implementation - After reviewing our recommendation and with final approval, we will get to work immediately on fulfilling your needs.

Proactive Maintenance - We will your monitor your Network and PC health continuously and make corrections as needed before problems or failures occur. We will stay on top of security and software patches, rollout updates and recommend upgrades if deemed necessary or beneficial to your business' health. Our maintenance plans will allow you to stay more focused on your everyday business and less worrying about your computer systems, your Network or even your company Web site.