IDAD offers the following IT services: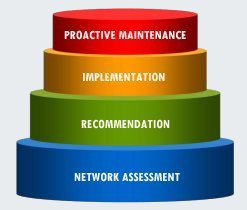 IT Management - (4 step process). We can fully manage your IT services from the ground up. From a detailed network assessment to maintaining your systems 24/7/365.
Onsite Support & Remote Management

- Your network, PC Desktops and wireless infrastructure are three major resources that allow you to conduct business more efficiently and productively.

To keep these resources functioning and up-to-date requires proper maintenance and support around the clock.

Our services would include and are not limited to:

Network design & troubleshooting

Workstation maintenance

Network security &

Virus/Malware protection

Equipment recommendations & acquisition

Wireless configuration & monitoring

Phone installs & support

Web site updates


Network Installations

- We can help you build or re-design your current network infrastructure - from cabling your office to getting your e-mail server online. We have the skills to get the job done.



E-mail Spam Filtering

- Working behind the scenes to block threats at your network perimeter, the multi-layered technologies that power our email and Web security solutions (through our partners) are continually updated to protect businesses from the latest threats. As new threats emerge, new solutions are developed and quickly put into place to defend our customers. Our layered approach to online security complements and fortifies your existing network and desktop security solutions to provide maximum protection against a wide range of quickly-evolving threats obtained via email.





Virus/Spyware Protection

- With the help of our partners, we can achieve the very best in antivirus and spyware protection for your personal or office computers by:


Protecting your PC in real time from known viruses, spyware and other malware with hourly updates
Blocking unknown viruses using advanced proactive detection techniques
Monitoring and preventing spyware threats in real-time
Detecting and removing the latest breed of hidden threats
Providing a smooth gaming experience by reducing the system load to a minimum


Data Backup Strategies

- whether its onsite or in conjunction with our offsite data storage partners, we can assist you in setting up the right plan of action to keep your data safe and recoverable during a disaster.



*

Our partner's online backup solution guarantees that it gets done. Off-site transmission and storage provides a necessary safeguard for your data, while under the protection of industrial-strength encryption. And instant access to your data allows quick and easy recovery. In addition, your cost savings are not only realized in the lack of hardware & software costs, but also in the amount of time saved using this technology.


Web Development

-

Professional

graphics are used to present your messages to the public in a neat and organized format ensuring greater respect by those who view them. With IDAD, our state-of-the-art techniques and close client contact, you are assured of a creatively designed, unique website. Request a quote


Web Hosting

- We will minimize your costs associated with your connection speed, specifically configured computers and the resulting maintenance required.
The virtual hosting service that we offer will relieve your organization of the burden of having dedicated hardware/software and the high cost of human resources devoted to a full-time Internet presence. Visit our Web hosting site